Leadpages
offers you the possibility to easily build individual websites. So you can design your own landing pages, registration pages, thank you pages etc. - also a registration page for your webinars. You have the following possibilities:
I) Direct integration
With direct integration, a registration form created in Webinaris is inserted directly into your Leadpages page via iFrame. This works for all Drag&Drop Leadpages. These are pages that are built with the new Drag&Drop editor. In the top right corner of lead pages, you can display only drag & drop pages: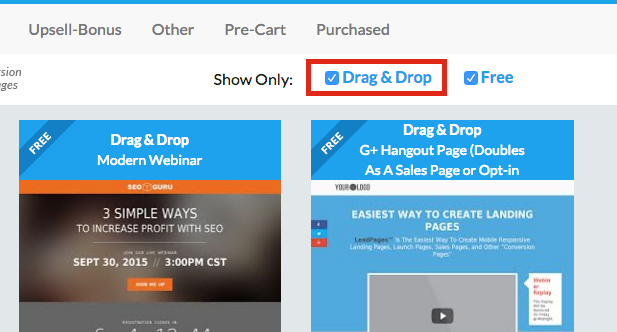 A) Embedding in the page
The following procedure is necessary for embedding in the page (not as a pop-up):
2. open your Leadpage page with the Drag&Drop Editor
3. add an HTML widget to your lead page
4. paste the iFrame code you copied from Webinaris into the HTML widget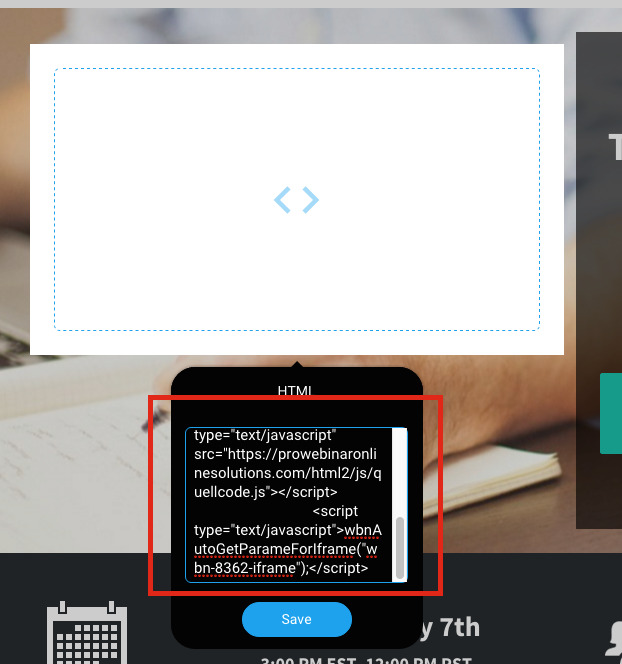 5. save your leadpage page
When embedding as a pop-up, it is necessary that you first create a pop-up of a lead page and then insert it into the actual lead page using HTML code. Please proceed as follows:
2. open the section "Conversion Tools" in Leadpages

3. select the category "Pop-Ups" and click on "Create new Pop-Up" in the upper right corner.

4. enter a name for the pop-up and click "Continue".

5. remove all content from the pop-up and insert a block of type "HTML

6. click on the Edit button on the right of the HTML widget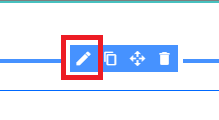 7. enter as HTML code the Webinaris iFrame code copied in step 1 and click "Save".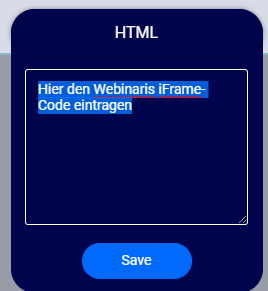 8. click on "Publish" in the top right corner

9. select the "Button Link" section
10. adjust the button according to your wishes and click on "Get Code".

11. copy the displayed code
12. open your Leadpage page with the Drag&Drop Editor
13. add an HTML widget to your lead page
14. Paste the pop-up button code you copied in step 11 into the HTML widget.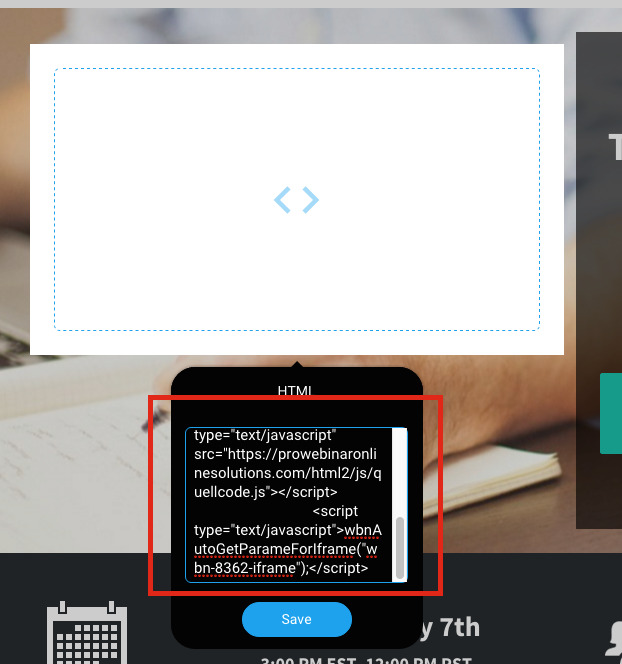 5. save your leadpage page
WICHTIG!
If the registration form is integrated into a lead page pop-up window, the source ID will no longer work properly. This is because Leadpages does not work properly when the source ID is passed to the pop-up window. Therefore it is best to use the direct embedding into the page and only use a pop-up window if the source ID is irrelevant for you.
II) Alternative integration option
If you do not want to use Drag&Drop Leadpages, Leadpages unfortunately does not offer the possibility of direct integration. Alternatively, you can proceed as follows:
1. a customer registers via a conventional Leadpages form
2. choose a Webinaris landing page with the webinar registration form as a thank you page.
3. in order to optimize the process for the participant, it is best to work with the
Parameter transfer
. This means that the participant does not have to enter his contact details a second time.