Webinaris offers you the option of verifying your Webinaris subdomain on Facebook.
To do this, please proceed as follows:
1. Log into the Facebook Business Manager at https://business.facebook.com
2. On the left, click Company Settings: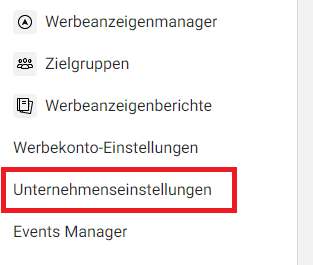 3. In the menu section "Brand Safety", open the menu item "Domains":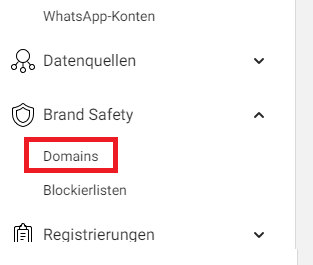 4. At the top, click 'Add':

5. Enter your Webinaris subdomain under "Domain name". This is best read from your landing page URL and looks like this, for example: 123456.webinaris.co
Then click on "Add Domain"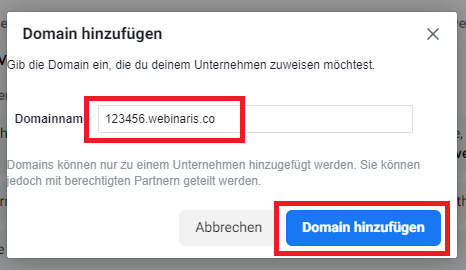 6. Facebook Bietet Ihnen verschiedene Verifizierungs-Optionen an. Wählen Sie bitte den Reiter "Metatag-Verifizierung" aus:

6. Facebook offers you various verification options. Please select the tab "Metatag verification":

8. Leave the Facebook Business Manager open and open the "Account" menu in Webinaris in a new browser window
9. For "Facebook Domain Verification - Meta Tag", enter the string you just copied (without the quotation marks - only the string of the value "content"):

10. Click on "Save"
11. Open the browser window with the Facebook Business Manager again and click on "Confirm"