With Digistore24's Social Proof Bubble, you can have the bottom left-hand corner of the webinar show which people have already purchased your product. The Social Proof Bubble looks like this: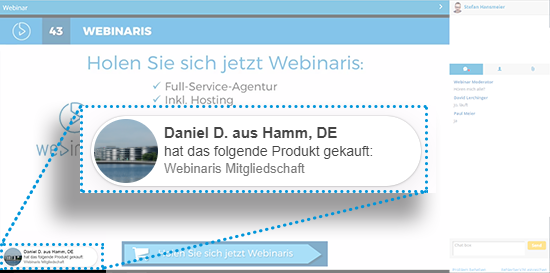 This allows you to give your webinar participants an additional incentive to buy.
Please proceed as follows to insert the Social Proof Bubble into Webinaris:
1. create a Social Proof Bubble in Digistore24
a) Open the menu "Account" -> "Conversion-Tools".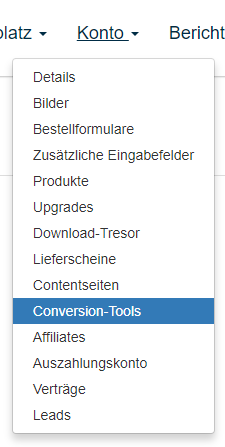 b) Select the category "Social-Proof

c) Click on the button "Add Social-Proof".

d) Select "Bubble (placed over the text at the bottom of the screen)".

e) Make the settings and then click on the "Save" button.

f) Copy the HTML code that is now available. In the next step you have to paste this code into Webinaris.

2. insert the HTML code of the Social-Proof Bubble at Webinaris. Proceed as follows:
a) Open the webinar project where you want to add the Social-Proof Bubble and navigate to the menu "General" -> "Actions".
b) Select the category "Tracking" on the right hand side.
c) Click on "NEW TRACKING CODE".

d) Under "Name", enter any name for the Social-Proof Bubble.
e) Enter the HTML code of the Social-Proof Bubble under "Tracking Code".
f) Save the settings
g) In the schedule on the left, set the time at which the Social-Proof Bubble should be displayed

h) Save the settings