Welcome to Webinaris! In this article we give you a short overview about Webinaris and explain what you have to pay attention to.
I. Our knowledge database
We try to make Webinaris as simple as possible. Nevertheless, questions may arise. Therefore we have created a comprehensive knowledge database in which you will find an answer to almost all your questions and a solution to almost all your problems. You can find the knowledge database here:
II. Webinaris Tutorial
We have made some introductory videos for you, which explain Webinaris in detail. Please find them here.
III. Webinaris Quck Access
In every webinar project you will find the submenu "Quick Access" in the menu "General". Almost all functions available in Webinaris are listed there. By clicking on the links on this page you will always get to the menu in which the respective setting can be made.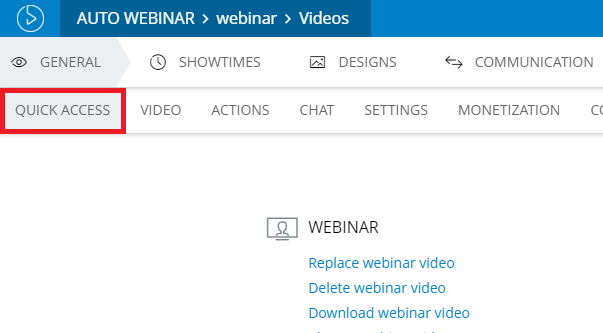 IV. The optimal procedure
Webinaris is structured according to the Open Flow principle. This means that the logical menu navigation guides you step by step through the entire setup process, but you can also switch between the menus as desired. Especially for the beginning we recommend to follow the flow process in order to make all relevant settings one after the other. Simply click through the individual menus and submenus from left to right in your webinar project.

V. The right browser
Please use Google Chrome for setup. Although Webinaris works with all other browsers, various settings in Internet Explorer, Firefox, Safari or Microsoft Edge can still cause problems. Using Google Chrome prevents most of the problems.
Important: This only affects the setup. Attending a webinar works with any current browser.
VI. The 3 most important basic rules of Webinaris
1. Always test before switching a project live
Use the preview and test functions and take part as a participant in your own webinar before you advertise the webinar. This doesn't take long and ensures that you can rule out all possible mistakes in advance.
2. Invite participants only when everything is ready
Settings for participants are no longer updated after they have logged in. Therefore you should not advertise webinars until everything is ready and you have done at least one test run yourself.
3. Launch in stages
With Webinaris you have the possibility to test your webinars on a small scale. This allows you to eliminate any problems that may occur - for example through your shop provider, the webinar system, the mailing tool, etc. - before you bring the large crowd into the webinars.
VII. Security First
Never delete your recorded webinar videos from your computer or make sure that you always have a backup copy of them (e.g. on an external hard drive). In the best case, this also applies to the texts of your landing pages, thank you pages, e-mails, etc. It can always happen - due to technical or human failure - that data is lost, for example because you accidentally delete a wrong webinar.